Welcome to our regular Monday recap of the most important economic events that affected the markets during the last trading week.
The start of last week was relatively modest for economic data. The second half of the week brought some interesting numbers, mostly from the euro area.
Read on to keep up to date!
NZD
The beginning of the week started with a statement by the Governor of the Reserve Bank of New Zealand (RBNZ) - Adrian Orr, who mentioned that the current challenge for the RBNZ will be the so-called. a "soft landing" over the next few years without a recession, where fiscal support will be needed.
AUD
On Tuesday morning, the Reserve Bank of Australia (BOA) published the minutes of its monetary policy meeting.
The meeting shows that we can expect another rate hike in June.
The Australian economy remains resilient and spending is growing. Wage growth has also accelerated.
Members noted that higher petrol prices would lead to higher inflation in the coming quarters.
Financial conditions need to remain accommodating.
The full minutes can be found here:
https://www.rba.gov.au/monetary-policy/rba-board-minutes/2022/2022-04-05.html
CAD
At the end of the week, we saw the results from Canadian retail sales (excluding autos), which were slightly weaker than last month (current: 2.1%, previous: 2.9%).
The Canadian economy has reopened after the January and February quarantine. Signs of growth in March are positive. What is worrying is that new vehicle sales are down 11% compared to 2/2021.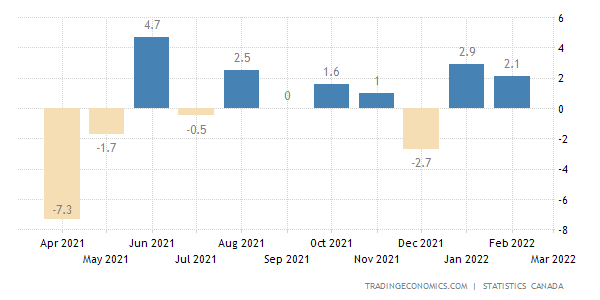 EUR
Last week also offered us some interesting Consumer Price Index (CPI) and Purchasing Managers' Index (PMI) numbers from the euro area.
CPI (March) - current: 7.4% / previous: 5.9%
PMI (manufacturing) - current: 55.3 / previous: 56.5
PMI (services) - current: 57.7 / previous: 55.6
The details reveal that the surge in services comes as we see another reopening of the economy. Meanwhile, the slump in production is coming as supply chain disruptions continue to persist and we also see demand conditions cooling. Especially the latter is not a completely positive sign.
Taking into account concerns about production conditions, weighed down by the Russia-Ukraine conflict and quarantine measures in China, this could lead to another challenging month despite these better figures.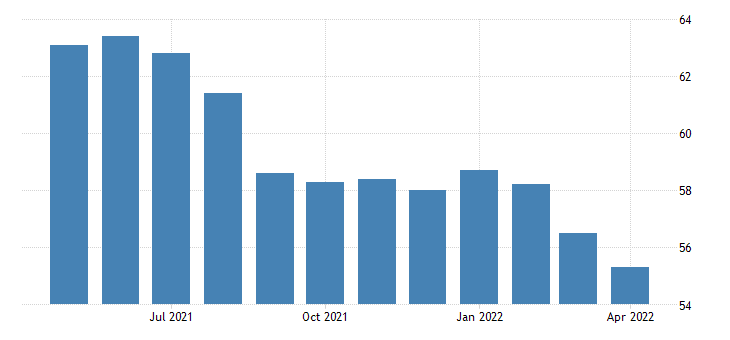 What's in store for the current trading week?
The first half of this week will be rather modest for economic data. We will focus our attention on Thursday's Bank of Japan (BOJ) meeting, which will decide on the current interest rate setting. Later in the day, the latest US GDP numbers will be interesting.
We wish you a successful start to the new week!
Sources